Clinical Applications in Dental Imaging
Return on investment
You have invested in digital x-ray, intra-oral cameras, digital cameras, documentation of your cases. CADI® is designed to build a relationship of trust with your patients by providing simplified patient co-diagnosis and treatment presentations.

The CADI® team has worked with the influence of several leading practice management consultants to develop CADI® protocols so you and your staff can obtain higher case acceptance through effective, proven communication using images.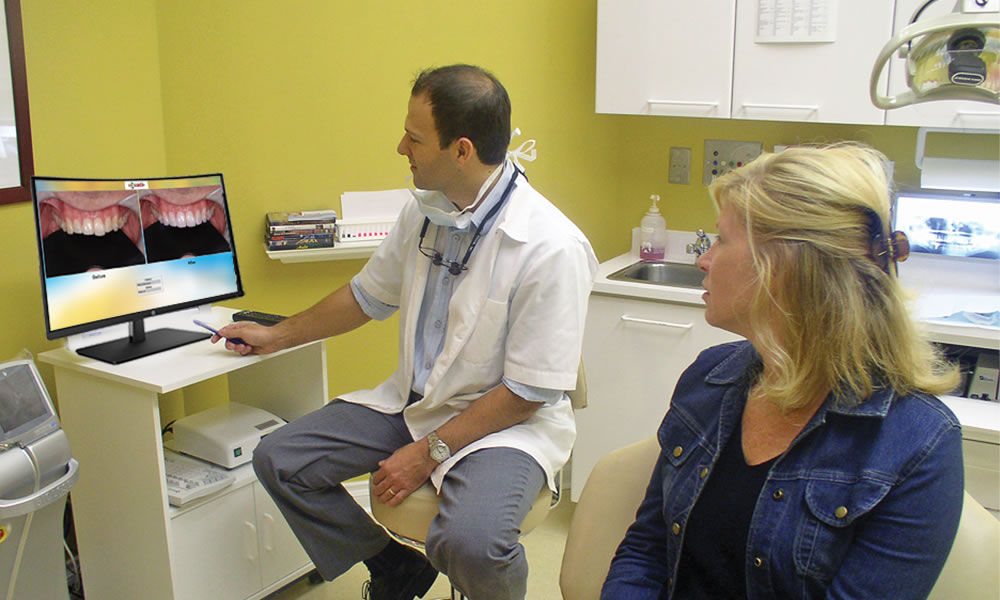 Co-diagnosis / Co-discovery
This is the simplest and most obvious clinical application. Simply support all treatment recommendations with intra-oral camera image(s) and digital x-ray(s). Use these images for discussion with patients 100% of the time. Images can be printed out for patients to bring home if they aren't ready to accept treatments.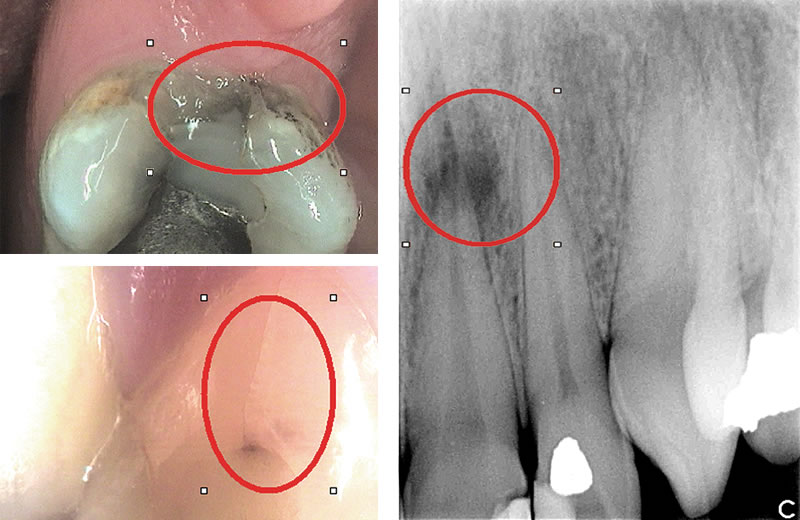 Co-diagnosis consists of using either x-rays, images, or both, to support all your treatment recommendations.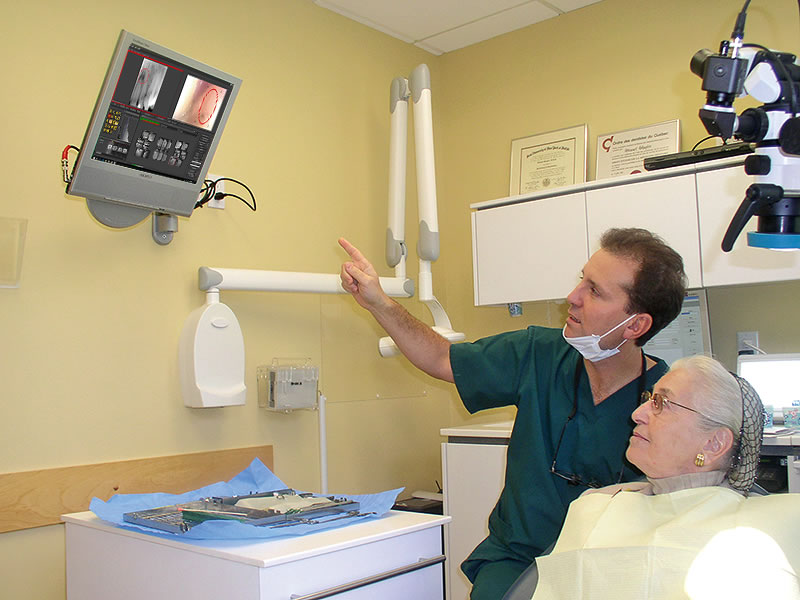 X-rays
Recare, Emergency new patients, Endo, etc.
With a direct sensor system, x-ray acquisitions are fast and precise. X-rays are automatically placed into mounts and oriented as they are acquired. With phosphor plate systems, CADI® helps organize images by tooth number and orientation.

Regardless of your system, CADI® features powerful automated filters that optimize image quality. It's easy to view complete x-ray exams, tooth history, or to display multiple x-rays simultaneously with other types of images.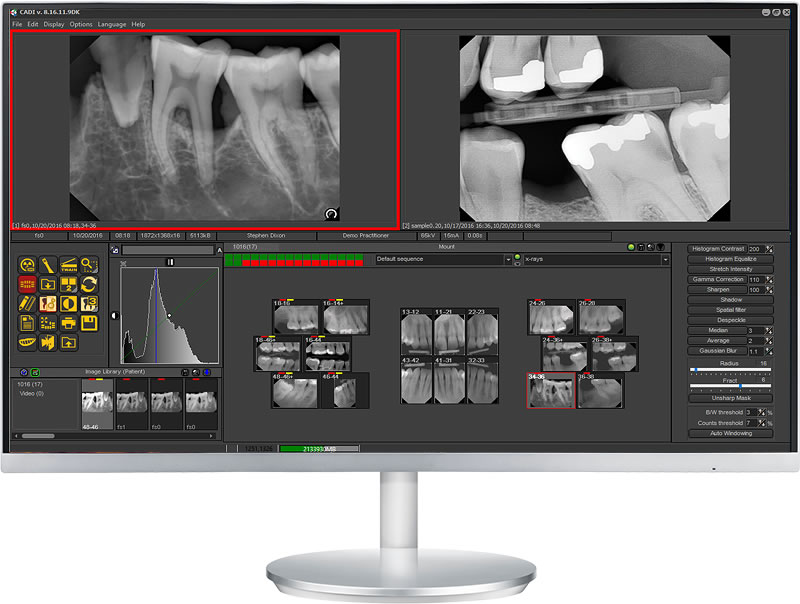 A full mouth series can be completed in about 5-8 minutes with a direct sensor system. Four (4) bite-wings can be captured in about 2 minutes.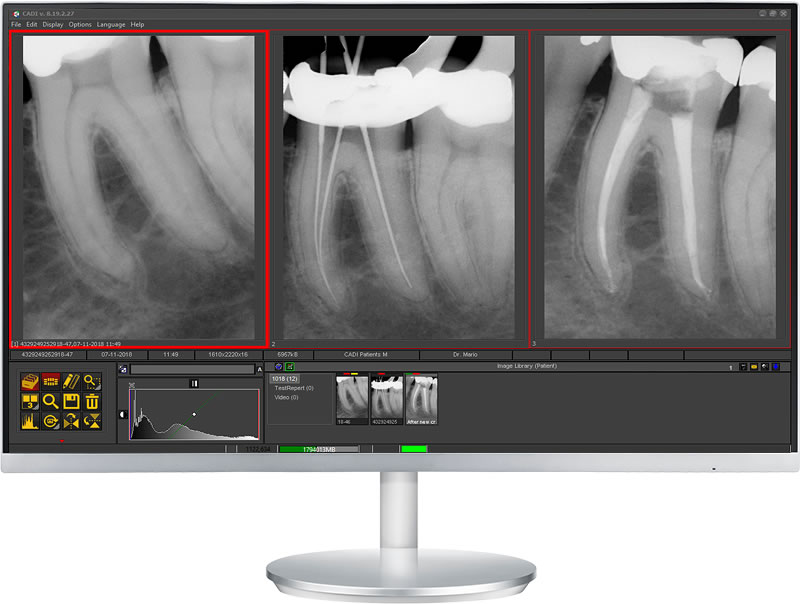 ENDO: Various combinations of images can be viewed simultaneously with measuring tools and zooming capabilities.
Complete Digital Exam
7 out of 10 patients have incomplete treatment plans
According to a leading practice consulting firm, 7 out of 10 patients in the average dental practice have incomplete treatment plans. The complete digital exam is the ideal opportunity to bring new light to previously untreated conditions.

For new patients and existing patients, this exam consists of both intra-oral camera (and digital camera) images and digital x-rays. The intra-oral camera (or digital camera) is used to take frontal shot of face, smile, buccals, both arches, quadrants, and an intra-oral camera is used for individual problematic teeth throughout the mouth. The digital x-ray exam consists of the same x-rays that you would take with film.

Once all the images and x-rays are taken, they can be reviewed with the patients, starting globally and then working through the different areas of the mouth. Images can be used in conjunction with patient interview questions to enable you and your patient to determine the optimal treatment and discuss the consequences o postponing or declining the proposed treatment. Patient education products and a custom image library of your cases can easily be accessed from within CADI®.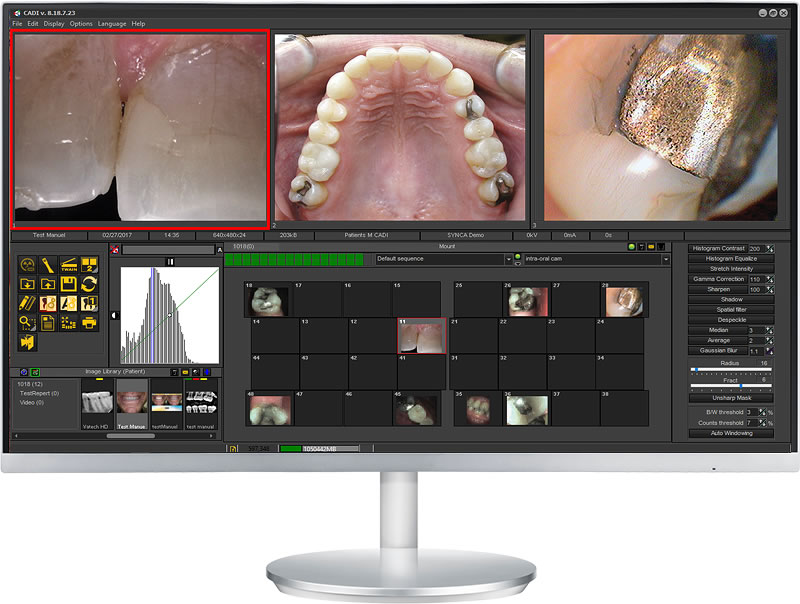 Intra-oral camera images are automatically organized by tooth number for easy retrieval and display. Above example uses digital camera arch photo for patient reference along with intra-oral camera images of symptomatic teeth.
Present treatment plans using any combination of panoramic and intra-oral x-rays, digital and intra-oral camera images.
Cosmetic or Whitening Simulation
The use of a digital camera is great for cosmetic presentations, cosmetic imaging and whitening simulation. Take a digital photo of each patient and, depending upon their existing condition, do a whitening simulation and/or a smile insertion. Most people have no idea how their appearance can be improved by a new or whiter smile.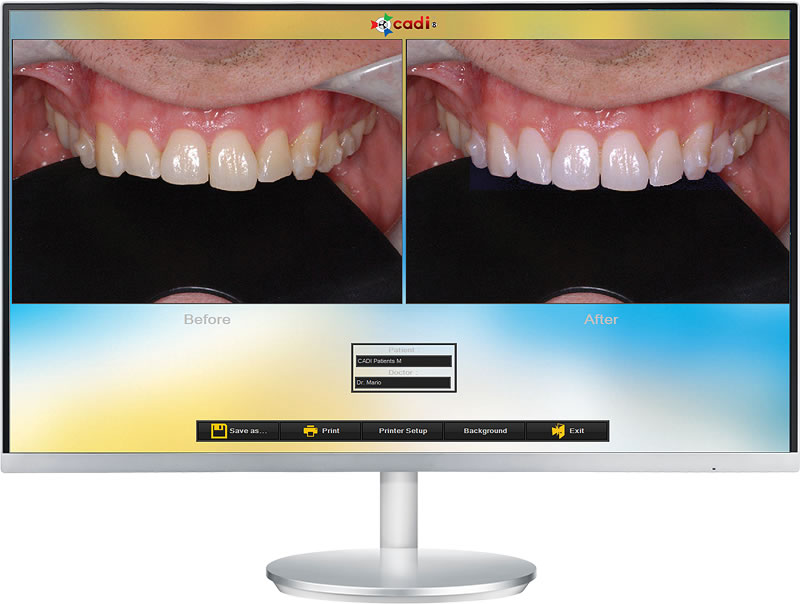 Dramatically improve cosmetic case acceptance with cosmetic simulation.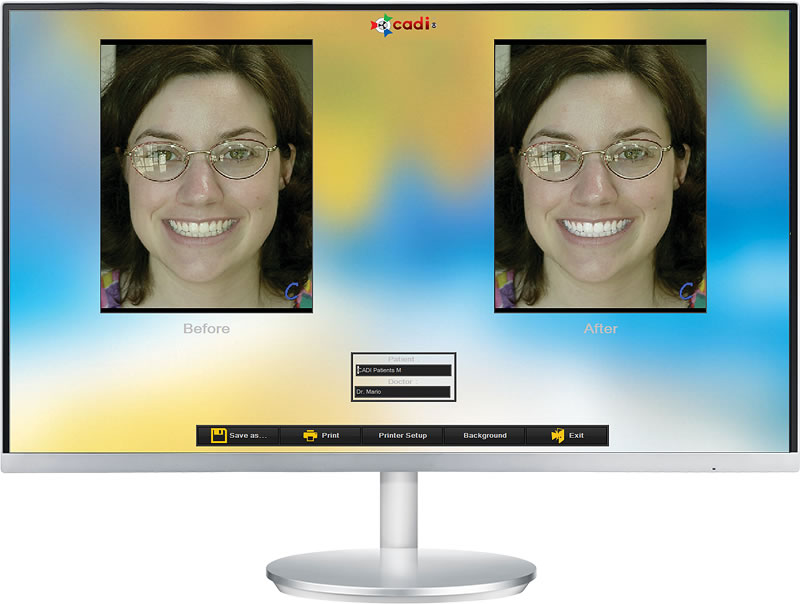 Dramatically improve whitening case acceptance with whitening simulation.
New Emergency Patients
Turn new emergency patients into lifetime patients using the intra-oral camera and digital x-ray sensor. New emergency patients often don't associate dentistry with a positive experience and the reasons can be numerous. If they are due to: poor previous explanations of proposed treatments, lack of confidence in previous dentist(s), poor dental IQ, fear of pain, fear of cost, etc., simply showing them a few images can place you and your practice in a positive light.

Take a quadrant and or arch image with the intra-oral camera as well as digital x-rays of the area(s) of immediate concern. Additional bite-wing x-rays can be taken to explain other symptomatic areas. This can be a precursor to a complete exam and treatment plan.

The advantage of the digital emergency exam is the ability to gain instant credibility with your new patient. There is really no better way to do this. If this credibility cannot be gained, often the patient will simply accept a basic treatment that alleviates the pain.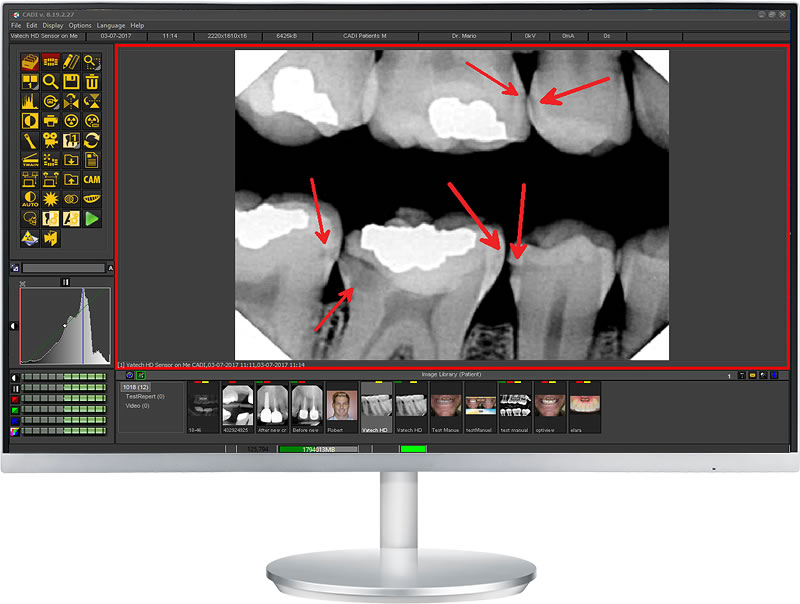 "I have how many cavities???"
Gain objective instant credibility with new emergency patients.
Before & After Images
Take before and after images of your crown and bridge work, cosmetic cases, etc. on a routine basis. Show your previous work to encourage patients into accepting treatments. You will be demonstrating actual results that you have obtained with others. You will also be showing patients that others have proceeded with similar treatments. Reduce cognitive dissonance. If ever patients are not completely satisfied with results, showing them how they looked before reminds them of the improvements that have been done. Encourage treatment plan completion. Show patients results obtained in one quadrant to encourage them to continue with treatment.



Hygiene
Reinforce the importance of hygiene at every cleaning by taking one before and after image with an intra-oral camera. Show patients before and after cleaning, changes in perio conditions over time, etc...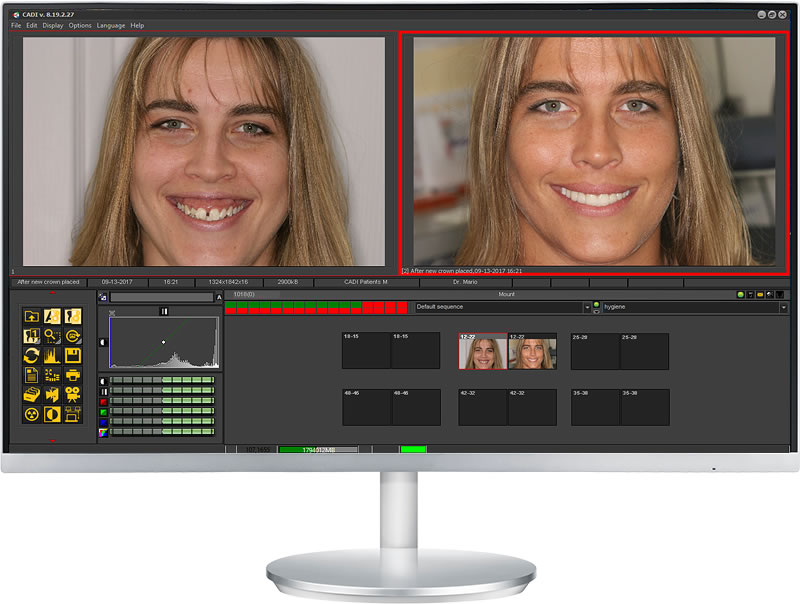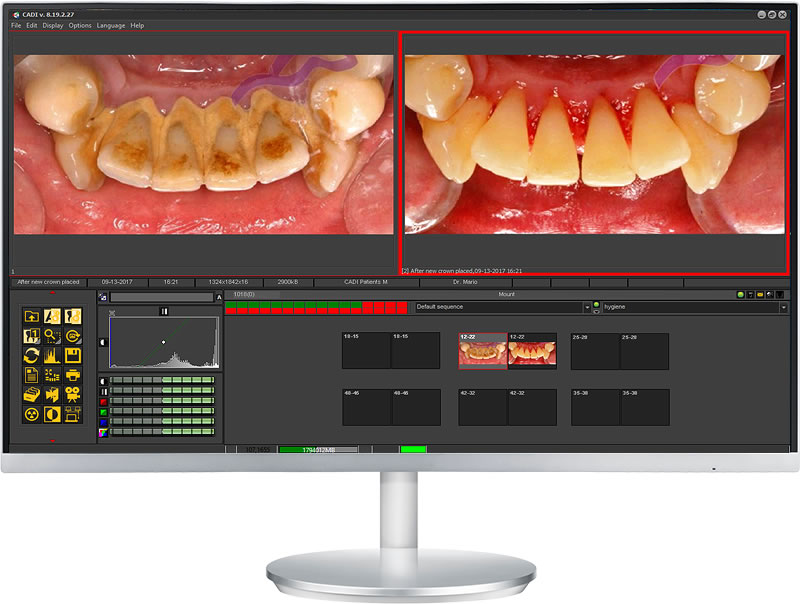 Dental Facial Orthodontics
Ortho & photographs
Panoramic and cephalometric images can either be taken digitally or scanned into CADI® from traditional film. Digital tracing and analysis is fast and precise with CADI®-DFO. The analysis software instantly calculates a wide variety of analyses.

Additionally, digital photographs can be automatically imported into an AAO mount and can easily be positioned and cropped for printing.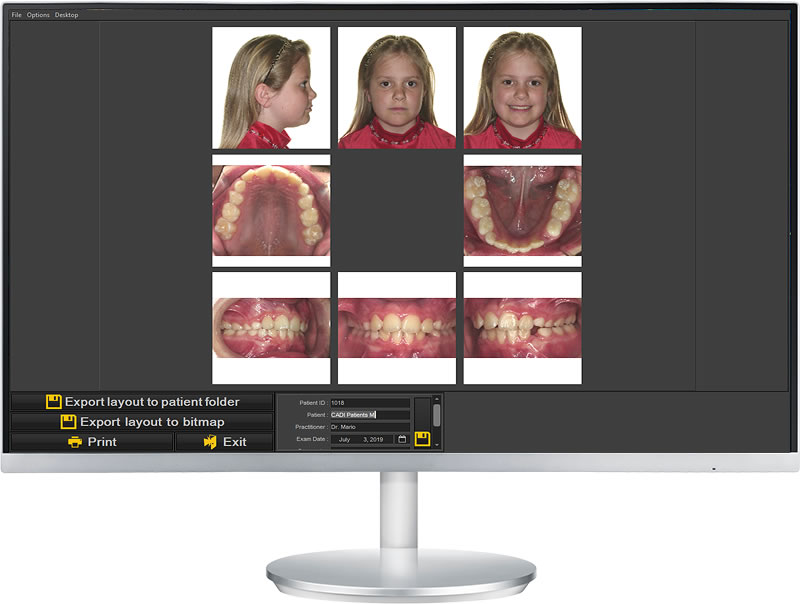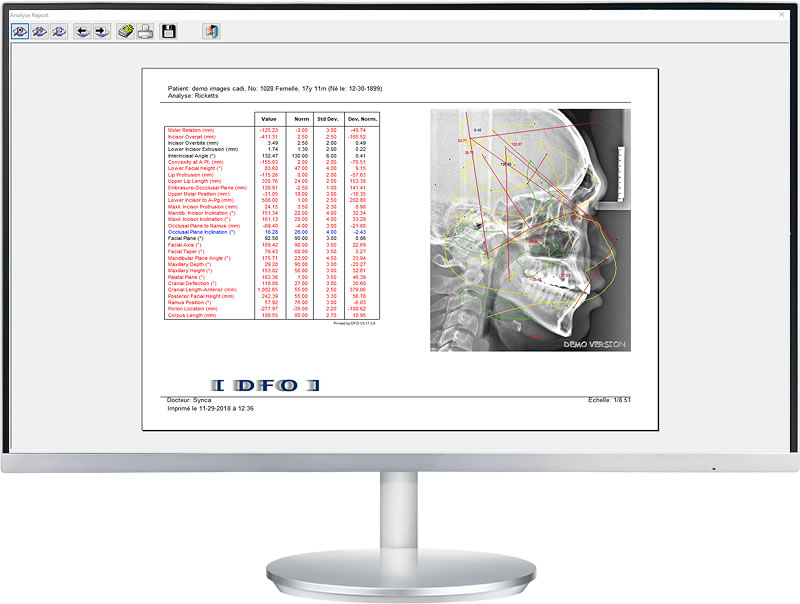 Complete ceph tracings and analyses in minutes.
Insurance Approval and Referrals
Printout or e-mail x-rays easily for insurance approval. Combine them with high-quality intra-oral camera images to show and document fractures. Send referral reports to and from specialists with text templates.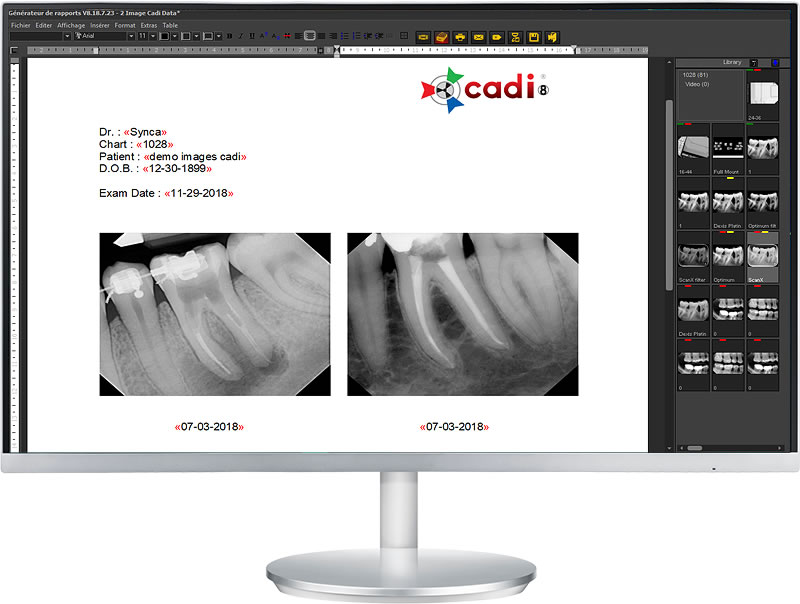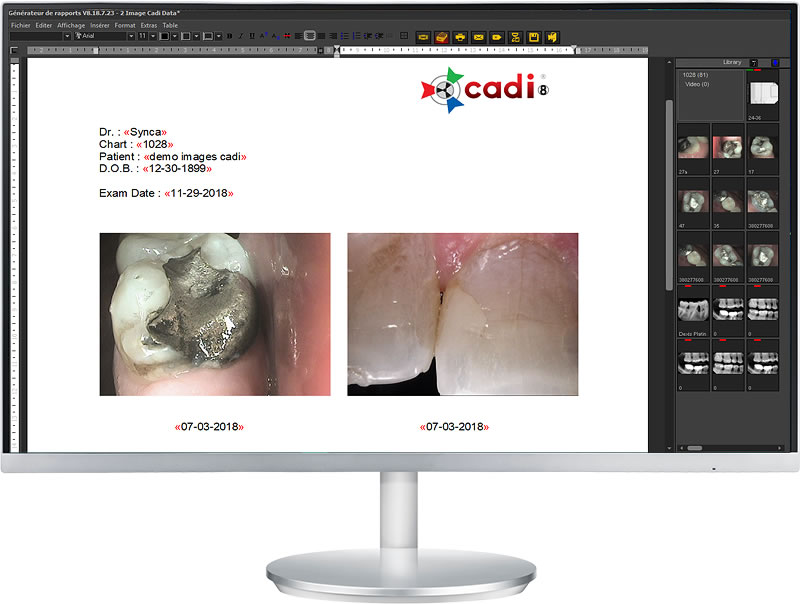 Conclusion
CADI® offers you a solution to:
Routinely capture, organize and present images for all your case presentations
Help you and your staff know when to take images
Build trust and comfort quickly with new or skeptical patients
Explain more treatment alternatives in less time
Educate patients
Explain the limitations of insurance company compensation.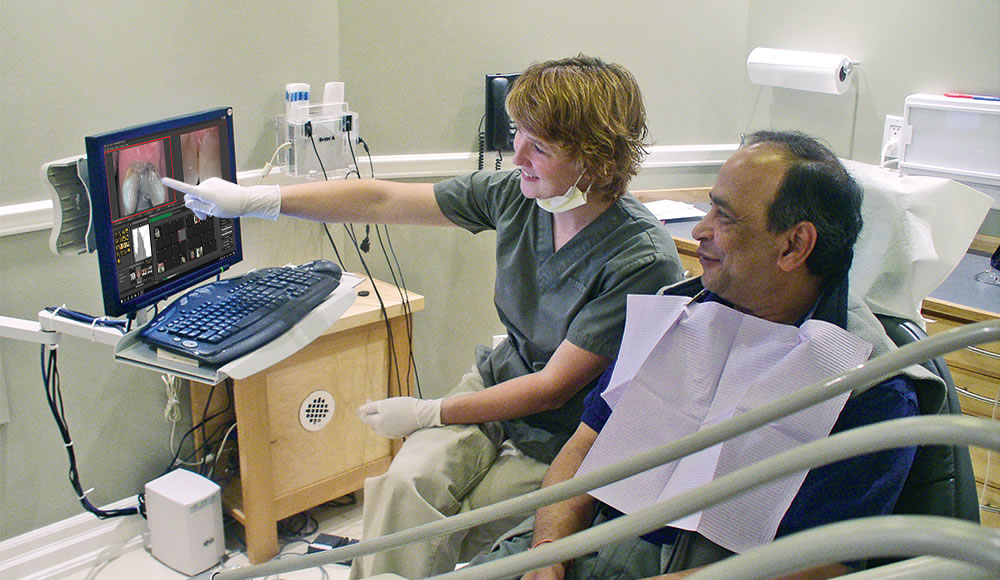 "Whether case acceptance is acceptable to you or not is irrelevant in a decision to reinforce all your treatment recommendations with images and x-rays. It's simply a better way to do things."